OASIS-E: Key Changes and How They Impact Home Health Professionals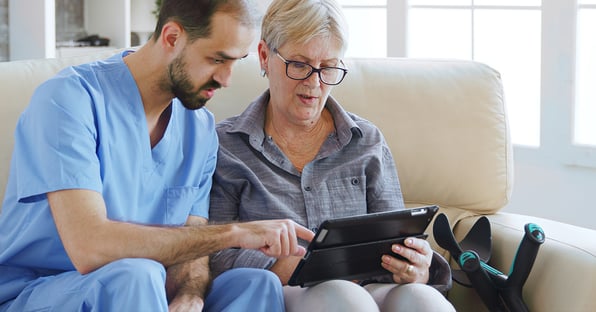 OASIS-E, the updated group of standardized data elements by the Centers for Medicare and Medicaid Services (CMS) that home health agencies use to assess patient health outcomes, is now replacing its predecessor OASIS. After being delayed due to the COVID-19 health emergency, the changes from OASIS to OASIS-E went into effect at the beginning of 2023.
If they haven't begun their OASIS-E implementation processes yet, home health and hospice agencies must be prepared to modify their patient data collection and reporting processes accordingly. Here's a look at some of the OASIS-E changes that home health agencies should be aware of and how these will affect them.
OASIS-E Changes To Be Aware Of
The aim of the OASIS-E changes is to standardize patient data collection in the hopes of facilitating the exchange of information and improving the quality of care. For this to be achieved, some data set items have been added while others have been removed. Other sections have been restructured and aligned with item numbers to match assessments that are used in other post-acute care settings.
Agencies should seek further education on the details of each item, but a few alterations include:
Restructured sections.

The OASIS-E data set is divided into categories ranging from A–Q as follows:

A – Administrative Section

B – Hearing, Speech, and Vision

C – Cognitive Patterns

D – Mood

E – Behavior

F – Preferences for Customary Routine Activities

G – Functional Status

GG – Functional Abilities

H – Bladder and Bowel

I – Active Diagnoses

J – Health Conditions

K – Swallowing/Nutritional Status

M – Skin Conditions

N – Medications

O – Special Treatment, Procedures, Programs

Q – Participation in Assessment and Goal Setting
Additional assessments.

OASIS-E contains several new assessments for providers to familiarize themselves with, including:

The

Brief Interview for Mental Status (BIMS)

, which will establish a cognitive baseline by testing the patient's memory and temporal orientation

The

Signs and Symptoms of Delirium from the Cognitive Assessment Method (CAM)

, which can help identify delirium as early as possible so that it can potentially be reversed

The

Patient Mood Interview (PHQ 9)

, which is an expanded depression screening designed to reveal further details regarding the severity of depression if revealed by the original screening, PHQ2

Introduction of

Standardized Patient Assessment Data Elements (SPADEs)

to improve patient care outcomes
The changes may take time for agencies and clinicians to familiarize themselves with, so they should seek out OASIS-E guidance to help them along the way. OASIS-E education is available to those seeking a better understanding of the changes, so avail yourself of the resources that CMS has provided to make the transition smoother.
How These Changes Will Impact Home Health Agencies
Once they implement the changes to OASIS-E, home health and hospice agencies may notice several differences in their day-to-day operations. Some of the changes they can expect are:
Completion time

. The CMS estimates that OASIS-E will take approximately 2.5 minutes longer for clinicians to complete once they become familiar with it, though it may take a bit longer until they climb the learning curve.

Interoperability

. Integrating SPADEs across home health and all other post-acute care settings should standardize patient assessment data elements and make the process of submitting quality measures easier. The result should be improved interoperability and better patient care.

Transfer of health information (TOH).

Amendments to the TOH section will help measure how quickly a reconciled medication list was delivered to the subsequent provider or the patient as needed and will help ensure a smoother hand-off to a post-acute care setting. It will also be added to the Home Health Quality Reporting Program in the future.
Because so many poor patient outcomes are tied to medication issues, home health agencies should expect a stronger emphasis on reconciled medication lists and other assessment sections that ensure that a patient's medications will be administered correctly.
A Software Solution That Simplifies Patient Data Collection
As the most comprehensive set of changes in OASIS takes effect, home health agencies will need to educate themselves on the new reporting system. The new assessment forms may take time for clinicians to acclimate to, but the end result should be more efficient data collection, simplified reporting, and ultimately better patient health.
WorldView offers a software solution designed to streamline the patient data collection and recording process and help home health agencies run more efficiently. Our platform can help you navigate the changes made to OASIS-E. Contact us today to see how we can help your home health agency deliver optimal patient care.
Get Awesome Content Delivered Straight to Your Inbox!
Posts by topic