The Argument for Healthcare ECMs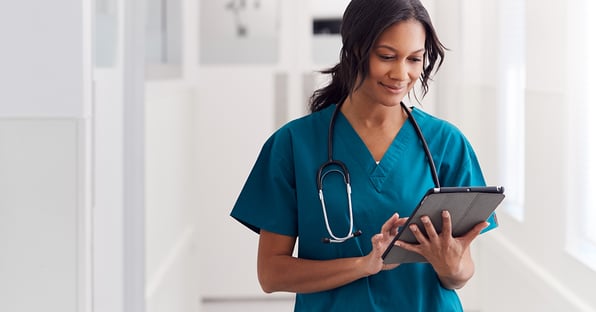 Enterprise content management (ECM) solutions solve the problem of disparate systems in record keeping, overflowing paper documents, and manual workflows. For healthcare organizations, integrating with a healthcare ECM solution provider could be the answer to patient care challenges.
So, what is an ECM in healthcare? Here's what to know about healthcare ECMs and why organizations need one.
Healthcare ECMs Centralize Information Management
Organizing patient information can be challenging due to the nature of patient care, the number of healthcare providers involved, and the use of electronic health records. But ECMs help you centralize information management.
Access to Medical Records Is Streamlined
When you need to view relevant documents, ECM's document management system makes it easy to access medical records. ECM tools eliminate importing, scanning, and copying of files — you can compile digital records in a snap. Clinicians can access these records on the go to get the right information at the right time.
ECMs Facilitate Enhanced Care Management
Home health patients often benefit from enhanced care management. But enhanced care requires extra attention. Patients may benefit from extra services that staff members need to have the time to coordinate, including:
Medical care
Pharmacy and medication management
Mental health care
Travel logistics for medical needs
Nutrition support
Community resources
With many extra services and health care providers to coordinate, you can use ECMs to help free up staff time from tedious paperwork and increase the time they spend with patients. When staff spend more time with patients, you may see an improvement in patient care.
ECMs Improve Collaboration Among Healthcare Providers
Patients may need several providers to confer on medications, therapies, and surgical interventions. ECMs improve collaboration by seamlessly integrating with your EMR. You can have all patient records in one place, making it easy for providers to review and discuss a case. Primary care and specialties can all be on the same page.
ECMs Ensure Regulatory Compliance
ECMs can help ensure regulatory compliance by building a safe digital space that is HIPAA-compliant. When faced with an audit, providers can easily pull records.
In addition, ECMs provide secure access to documents, accurate record-keeping, and a safe space from physical threats like fire, theft, and flood.
ECMs Can Help Healthcare Organizations Identify Opportunities for Cost Savings
Healthcare organizations can identify cost-saving opportunities with the help of ECMs. This is due to more organized workflows, which help workers be more efficient.
ECM can help agencies automate processes to free up employees. An agency may typically have multiple people managing orders and referrals, but with ECM, they can automate these processes. The employee-to-patient ratio could reduce to one employee for every 750 patients.
Enterprise Content Management Streamlines Workflows
By eliminating unstructured content, ECMs help you build more efficient workflows. Your care team spends less time navigating disparate systems or making scans and more time on patient care. Efficiency helps save both time and money.
Scalable ECM Solutions for Growing Healthcare Organizations
As a growing healthcare organization, integrating scalable ECM healthcare solutions sets you up for improved information centralization. It helps you maintain regulatory compliance and information security. You can also save time and money thanks to the efficiency these highly organized content structures provide.
Tackle some of the challenges in managing home health services when you use enterprise content management solutions from WorldView. Fully automated solutions designed specifically for the home health and hospice care industry can help as your organization grows to serve more patients with better resources.
Get Awesome Content Delivered Straight to Your Inbox!
Posts by topic