The Complete Hospice Documentation Checklist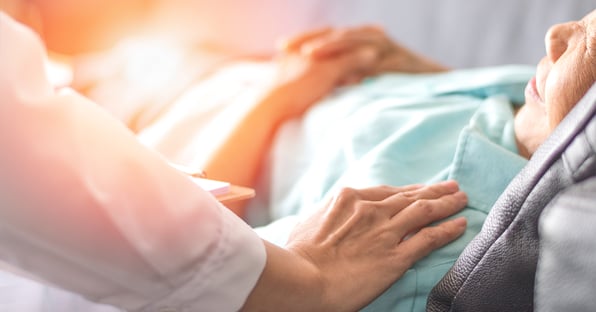 Many hospice professionals spend a good part of their week filling out paperwork. This administrative task may seem like a tedious time suck, but having the right documentation is a critical part of patient care. You need proper documents on file for patient care, referrals, compliance, and more. A hospice document checklist can improve the process of filling out, submitting, and filing patient records and other important information.
The Role of Hospice Documentation
Hospice care providers are required to document patient care. These records help ensure consistent, quality care regardless of which member of the care team is helping the patient.
Referral and billing forms get you paid more quickly from insurance companies, Medicare or Medicaid, and other financial providers. Finally, since hospice patients are terminally ill, they need to provide the care team with guidance on their care, their finances, and what will happen after they die.
Your patient's beneficiaries can use these records to access survivor benefits, death benefits, or retirement benefits following the death of their loved one.
These hospice documentation guidelines can guide your team through paperwork requirements, keeping complete patient records.
Key Documentation Needed in Hospice Care
The following documents are typically required for all hospice patients. Along with your required licensing documents, start your hospice documentation checklist with this list.
Individualized Plan of Care
The plan of care (POC) is a plan to direct patient care based on their conditions and their individual needs. You and the patient will develop the POC after the patient's physician has given them a certification of terminal illness.
This care plan covers all palliative services you're authorized to perform including patient goals and interventions. Without a POC, you may not be paid for treatment. A POC is also necessary for helping your care team make decisions based on the patient's condition. For example, if your patient has indicated that they don't want medical interventions including pain medicine, your care team will know not to administer them based on the POC.
Your patients can change their POC after you've started treatment, but you can't start treatment without one in place.
Hospice Scale
Also known as the palliative performance scale (PPS), the hospice scale helps physicians and your care team determine if a patient is eligible for hospice care.
This scale also helps you determine the level of care and create a plan for each patient. Physicians use it to assess functional decline and refer patients to hospice care agencies. Medicare and other financial benefit programs use it to approve coverage and pay your agency for care.
Direct Patient Care Provided
With hospice payment determinations and rules, Medicare and other financial benefit programs only cover a limited amount of care per year. Because of this, a patient's prognosis should be six months or less under its normal course to be eligible for hospice care.
The patient has to sign a form electing hospice benefits, which stops insurance payments for treatment of the disease and starts them for palliative care for two 90-day benefit periods and unlimited 60-day periods after the first two.
Your hospice patients can request routine home care, continuous home care, or inpatient care depending on how they have filled out their directive.
Areas to Avoid in Hospice Documentation
When your care team is filling out charts and other patient records, avoid subjective and vague terms like "patient is doing well." Each patient record should detail specifics about the visit to confirm that the patient is still eligible for hospice benefits.
Inaccurate records could cause the insurance company to withhold payments. In your hospice care checklist, add guidelines on how to properly fill out patient records.
Your care team should also avoid terms that signal stability, as these terms might make a patient ineligible for hospice benefits.
What This Means for You and Your team
You and your team can successfully provide patients with a high level of care with a hospice document checklist. Having one in place helps you ensure that each patient has the right paperwork to guide their care and make them eligible for insurance payments.
With a checklist, you can get faster approval on referrals and payments. Your team can spend less time figuring out what paperwork they need for each patient and more time on treatments.
If you want an easier way to manage these checklists, contact WorldView for a demonstration. We offer tools like MedAttach that let your team tick off documents from their lists and follow up on missing information more quickly. Our referral management and order tracking tools lets your team access patient information in one place to improve their level of patient care.
Get Awesome Content Delivered Straight to Your Inbox!
Posts by topic