CMS Guidelines for Hospice Documentation Explained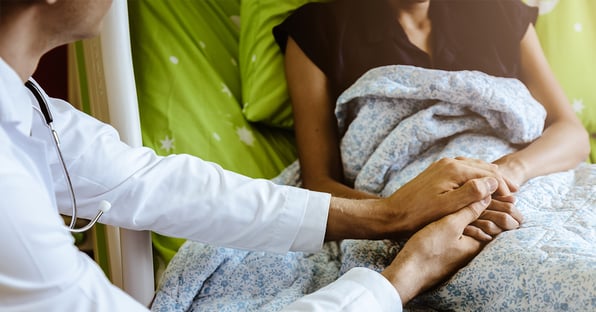 With over 63 million people enrolled in Medicare and 80 million enrolled in Medicaid, the Centers for Medicare and Medicaid Services (CMS) need to make it easier to process claims. One way they do so is by setting guidelines for different areas of care to speed up referrals and payments.
These guidelines help you keep your license by keeping you in compliance with rules and regulations and ensuring high-quality care. They also help you get paid more quickly.
What Are CMS Guidelines for Hospice Documentation?
The CMS hospice guidelines outline what types of documents a terminally ill patient needs to start receiving benefits. Your individual patients are eligible for hospice benefits if their doctor certifies that they have six months or less to live if their illness runs its normal course. These are the CMS guidelines for hospice.
Hospice Benefits and Benefit Requirements
Under the hospice rule and regulations, a hospice patient's benefits cover treatments used to reduce pain or help make their symptoms less severe. Your care team, medical facilities, home hospice services, medical supplies, and pain medication and other drugs for symptom management are covered as part of the Medicare hospice benefit.
It also covers physical therapy, speech therapy, occupational therapy, hospice aides, homemaker services, dietary counseling, spiritual counseling, and grief counseling for your patient's family.
To be eligible for benefits, your patients must elect hospice care. Make sure you collect a Notice of Election and file it with the Medicare contractor
Each patient is eligible for the hospice benefit for two 90-day periods and you need to complete a hospice certification within two calendar days of their treatment. Certifications require an individual care plan for each patient to guide their care.
If you need to readmit a patient to hospice care for a third benefit period, you need to have a hospice doctor or nurse practitioner to have a face-to-face encounter with the patient to certify that they are still terminal, otherwise they would lose their hospice benefit.
Levels of Hospice Care, Co-Insurance, and Hospice Billing
CMS requirements offer the following levels of care which are used for accurate billing. Use the correct level of care to ensure faster payments:
Routine home care:

Your patient receives regular home care

Continuous home care:

Your care team is at the patient's home continuously

Inpatient respite care:

Your patient is in your facility for up to five days to relieve their caregiver

General inpatient care:

Your patient receives care in your facility
Medicare patients may use coinsurance to help cover added expenses. To set these up, you would need to establish a drug copayment schedule and other fee schedules to guide the coinsurance payment. Medicare typically pays a daily rate for hospice care within the benefit periods or until the patient is discharged.
Using the Right Software Can Streamline Your Hospice Agency
Because the right documentation is critical in getting patients approved for hospice care, consider using hospice software to make the process easier on your care team. WorldView's platform offers tools like referral management, MedAttach, and order tracking to help you streamline the documentation process and reduce errors that could delay billing and patient care.
Schedule a demo and find out how we can help you.
Get Awesome Content Delivered Straight to Your Inbox!
Posts by topic