Enterprise Content Management: What It Is and Why It Matters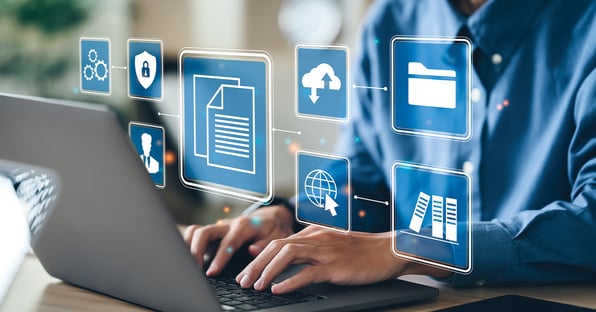 Many people associate the term "content" with marketing, but every piece of information your company creates and distributes is considered content. Storing, organizing, and delivering this content effectively helps your business run more effectively, and it can allow you to meet your goals more effectively.
What Is Enterprise Content Management?
Enterprise content management refers to the processes, strategies, and tools your business uses to create, obtain, organize, store, and deliver information to interested parties. With a robust enterprise content management system, you can more effectively distribute content to the right audiences to support processes and help your business meet its goals.
5 Key Elements of Enterprise Content Management
Enterprise content management consists of the following elements:
Capture:

How your organization converts paper documents into electronic files

Management:

How each piece of content is managed throughout its life cycle, including edits, collaboration, and document management

Storage:

How your organization stores and manages content and how the right people access it

Preservation:

How your data is stored and backed up as well as your records management process

Delivery:

How you distribute content to interested parties, including employees, customers, board members, clients, and end users
The Importance of Enterprise Content Management for Your Company
Having an enterprise content management solution helps your business function at an optimal level. These systems help you ensure that your electronic files are up to date and stored securely. For example, your enterprise content management software could help you set a standard business process for creating and updating invoices. If a client calls to inquire about an invoice, the project manager and accounts receivable staff have access to the most recent version, and your client gets consistent information from both parties.
Enterprise content management also benefits your company in the following ways.
Meeting Data Security Standards and Regulatory Requirements
Companies in every industry have an interest in keeping their electronic files secure. Industries in which companies manage sensitive personal data like medical records or bank account information have strict security regulations regarding this data.
Using an enterprise content management system lets you create strong security protocols. These systems let you set document security features that restrict access and create access trails for auditing and compliance purposes.
Enterprise content management systems also offer disaster recovery features you can use to get your business back up and running following a natural disaster, security breach, or other mishap.
Streamlining Organizational Processes
With enterprise content management software, you can create a central location for electronic files and create standard business processes for accessing information. This helps reduce information silos, letting people on your team get the information they need when they need it.
They no longer have to search in multiple locations for content like applications, invoices, graphics, resumes, and other important information. This enables better workflow management because each member of your team has access to what they need when they need it.
Keeping up With Advancements in Technology
Many enterprise content management solutions are cloud-based and some integrate with other cloud technologies. These solutions help your team distribute content quickly and consistently. They are multifunctional, allowing your team to store documents, collaborate on them, and distribute them on one platform.
Many of these systems are easily integrated with other technology you may be using, so you don't have to keep switching your content management system as technology advances.
Optimizing Connections Between Business Departments
In the modern business climate, many companies value interdepartmental collaboration. With an enterprise content management solution, they can do so more easily because everyone can access information in one location. Instead of using multiple restricted servers that require you to set up permissions to facilitate collaboration, each team member can access content in a single location.
With an enterprise content management system, your team can all collaborate on projects in real time. These systems often include collaborative tools that allow multiple people to work on a document at the same time. You do not run the risk of someone on the team changing an older version of a document.
Since the team can collaborate more easily, they can work together to identify and solve common business problems.
Begin Establishing an Effective Enterprise Content Management System
If you're ready to eliminate content silos and help your team work more effectively, consider the WorldView enterprise content management system. Our solutions let you capture and store contracts, supporting data, and documents, and create contracts on demand.
With our solutions, you can automate your workflows and manage your sensitive data by restricting access. Help your team work more efficiently by scheduling a demo.
Get Awesome Content Delivered Straight to Your Inbox!
Posts by topic