4 Common Problems with Home Health Care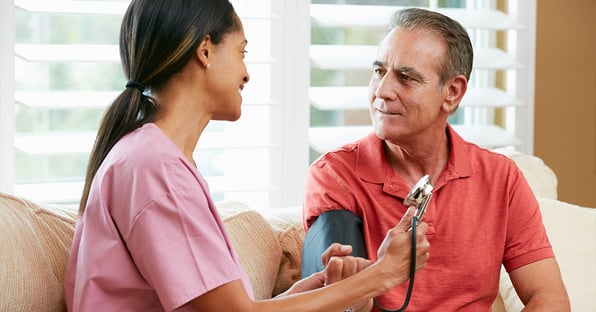 As the U.S. population ages, an increasing number of patients opt to receive health care at home. However, some of the more common problems with home health care can impede a patient's ability to receive high-quality medical care at home. If you operate a home health care agency, consider these common problems with home health care and how they might affect your patients and caregivers.
Most Common Disadvantages of Home Health Care
These are some of the common drawbacks associated with home health care services.
1. Insufficient Staffing and Cost of Training
Staffing continues to be one of the biggest problems of home health care agencies, with more than half saying recruiting was their greatest concern for the foreseeable future.
To become a health care nurse offering home-based care, caregivers may need special certifications that cost as much as $800. Home health agencies might need to cover these costs as part of training.
2. Revenue Loss Due to Unpaid Claims
Unpaid claims impact your revenue and your ability to provide quality care. An estimated 11% of claims go unpaid because of documentation mistakes, payer takebacks, claim denials, and other circumstances.
Some providers are strict on what you need to submit for a claim to be authorized. For example, if you've ever wondered what is the difference between hospice and home health care, the primary answer is treatment. Hospice providers don't treat an illness but manage a terminal patient's symptoms so they are more comfortable. Home health care providers, on the other hand, treat chronic conditions.
Whether you're a hospice or home health care provider, you may need a plan of care for claim approval, but filling out the wrong information in the care plan could result in the claim being rejected.
3. Lost Referrals and Processing Delays
Any patient who receives home health care needs to meet certain eligibility requirements, depending on their insurance and location. For example, to be eligible for Medicare, your patient should be seeing a regular physician who evaluates them for eligibility and refers them to your home health care agency. If you lose these referrals, you will not be able to complete patient intake, delaying their care.
4. Compliance Risks and Audits
When weighing the pros and cons of home health care, convenience ranks as an advantage, but your caregivers need to access sensitive information while they're on site. Because of HIPAA and other compliance guidelines, you need a compliant solution that your health care nurses can access in real-time without compromising patient security.
They need the right software to track wound care, weight loss, and other important information without having to carry paper documents. However, they also need a solid paper trail to help ensure compliance during the auditing process.
Eliminate Confusion and Optimize Your Home Health Processes with WorldView
As a home health care provider, you offer a valuable service to patients who don't want to stay in a nursing home. The right software solution can eliminate some common problems of home health care.
With WorldView, you can get HIPAA-compliant intake and visitation forms your team can access from a mobile device. You can also keep all patient records in one place, submit claims faster, and track referrals more easily for higher-quality home-based care.
WorldView's home health solutions allow you to treat your patients effectively in their own homes.
Get Awesome Content Delivered Straight to Your Inbox!
Posts by topic